Dec. 29th, 2006 | 07:38 pm
posted by: greek_amazon in sphma
This is an entirely random piece of trivia.

I was reading in the most recent portfolio (a collection of the year's best editorial cartoons) about an incident in which George W. Bush referred to the visiting Prime Minister as "Steve." Apparently this caused some sort of shake to Mr.Harper's image, and the writer compared it to a similar occurence which happened many years earlier, when President Ronald Reagan had referred to Prime Minister Brian Mulroney as "Muldoon."

Now it could just be a coincidence that that was the name of the villain in the final two episodes... but somehow, I doubt it. XD

Dec. 23rd, 2006 | 12:39 am
mood: FUCKYAH!
posted by: pyroclasticgrub in sphma
FUCKYAHHHHHHHHHHHHHHHHHHHHHHHHHHH!!!!!!!!!!!!!!!!!11

Hot Mountie action here we come!

Dec. 22nd, 2006 | 04:13 pm
posted by: prairiedaun in sphma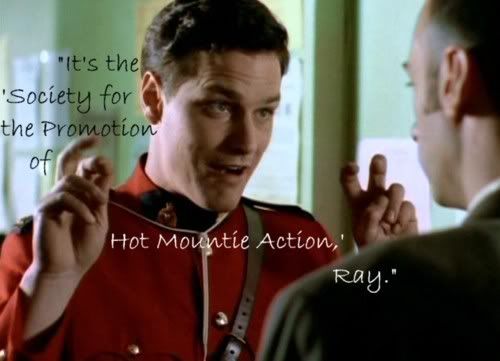 This is the community for the Society for the Promotion of Hot Mountie Action. Our goals are, well, the promotion of hot Mountie action, as well as to get together and watch due South, knit, drink tea and do whatever else comes to mind.
This community was made to make the planning of future SPHMA meetings easier, as well as another way for us to keep in touch.
If you've stumbled across us and have no idea of what the hell is going on.... well, good luck to you.
(founded by
prairiedaun
in celebration of the birthdays of two of the founding members,
numensule
and
pyroclasticgrub
)